Further development of Azerbaijani-Estonian venture fund to be determined soon
18. veebruar 2008
The Azerbaijan Investment Company is waiting for proposals of the Estonian Caspian Group and Investment bank GILD regarding further activity of the joint venture fund.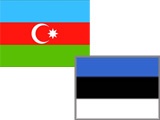 Deputy chief executive of the Azerbaijan Investment Company Riad Gasimov said "Estonians are to carry out the analysis of market, perspective spheres and look for interesting projects. The first session of the work group to discuss company's further development will be held in the near future".
It should be noted that under the memorandum of mutual understanding regarding creation of the fund, the sides will carry out a joint activity for creation of the structure of the fund and raising assets to it, raising investments to the Azerbaijani economics, specification of projects for financing, raising assets to the fund of other investors.
The regulation, presentation and marketing on the fund will be carried out by GILD.
It should be noted that the memorandum was signed in the framework of the visit of the Azerbaijani governmental delegation to Estonia in January of 2008.
/Day.Az/