Head of Information Technologies Institute: "It is currently impossible to apply e-voting in Azerbaijan"
25. juuni 2008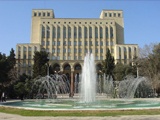 Application of e-voting in Azerbaijan is difficult due to the extreme complexity of this way of people's will expression and technological unpreparedness of some aspects, said Rasim Aliquliyev, head of the Information Technologies Institute under the National Academy of Science on Wednesday, according to Novosti-Azerbaijan.

"The main obstacle for application of this system is the absence of reliable and ordinary computer system of voters' biometric identification and the need to adopt a legal basis for legalization of e-voting", said he in his speech at the conference "Azerbaijan's integration with the Euroatlantic space and democratic elections", held in Baku.

He said even the developed countries of the world have not used virtual voting and the test use of this method was held only in Estonia.

In turn, another participant of the conference Osman Gunduz, head of the Center of Multimedia Information Systems and Technologies, announced that before applying e-voting in Azerbaijan it is necessary to set an order in the providers' economy-ensure users' access to Internet, remove monopolists' obstacles before providers and reduce cost of the use of telephone lines.



URL: http://www.today.az/news/politics/45952.html